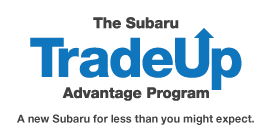 Get More Value for Your Used Subaru Car with the Subaru Trade Up Advantage Program
Subaru, over the years, has grown into one of the most trusted brands on the road. Whether you're looking for a comfortable SUV or a well-equipped sedan with impressive all-terrain options, the Subaru lineup has a selection of new vehicle models suited to the needs of many Spencer and Bloomfield drivers at Royal Subaru.
When you're ready to buy a new Subaru model, it only makes sense to find the best deal you can on the car you want. If you're already driving a Subaru, you might find you have more options available to help you pay less.
Enjoy the Value of the Subaru Trade Up Advantage Program
If you already drive in a Subaru and you're looking to upgrade to a newer, later model Subaru, the Subaru Trade Up program can help you leverage the value of your current car to get a better price on your next one.
Why does driving a Subaru car make a difference? It's not just that we're partial to them. Subaru-brand vehicles are known for their high quality. That means they retain their market value longer than cars from other brands do. That means that it's more valuable for us to take in used Subaru inventory.
Rather than keeping that all for ourselves, we think it makes sense to pass some of that value on to customers like you. When you bring your used Subaru car to us, we can use the Trade Up Advantage program to give you more trade credit that can help to keep your next car more affordable.
Get a Personalized Offer Tailored to Your Needs
On top of that extra value, the Trade Up program also allows us to create specialized trade offers designed to meet your personal Subaru needs. Let's say there's a newer Subaru model you're interested in, but its price point places it just out of your reach.
With the Subaru Trade Up Advantage program backing us, we might have leeway to offer you more for the older Subaru vehicle you're trading in. We won't just mark off boxes on a spreadsheet, tally the numbers, and give you whatever number comes out the other side. We'll create a personalized offer that takes you and your life into account.
We Can Help You Find a New Subaru Model to Make Your Trade Worthwhile
The best part of utilizing the Subaru Trade Up Advantage at Royal Subaru? You'll be working with the team at Royal Subaru. Our friendly staff of Subaru-brand expert will help you hone in on a Subaru model that delivers everything you're looking for. And the options are diverse.
If you're hoping to find a great sedan, our inventory includes highly-rated models like the Subaru Legacy, Subaru Impreza, and Subaru WRX. Offering valuable equipment like all-wheel drive as standard features, these sedans are some of the best-rated and most reliable in the industry.
We have a similarly impressive selection of Subaru SUVs waiting for you. The Subaru Outback, Subaru Forester, and Crosstrek are some of the most capable smaller SUV available. Martinsville drivers looking for something a bit bigger might also enjoy the Subaru Ascent. With seating for seven, a rugged design, and an excellent selection of available features, it provides a robust mid-sized SUV experience.
Reach Out to Our Dealership Today to Learn More
Do you have questions? Get in touch with the team at our location in Bloomington, IN and let us know. We'd be happy to help you find the answers you need to make an informed decision about your current Subaru car, and your next one. We serve drivers all over the greater Bedford area and would love to help you too.
Hours
Monday

8:30AM - 7:00PM

Tuesday

8:30AM - 7:00PM

Wednesday

8:30AM - 7:00PM

Thursday

8:30AM - 7:00PM

Friday

8:30AM - 7:00PM

Saturday

8:30AM - 6:00PM

Sunday

Closed