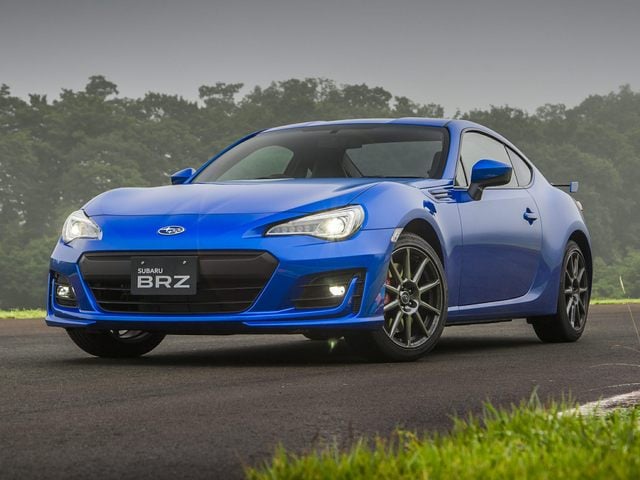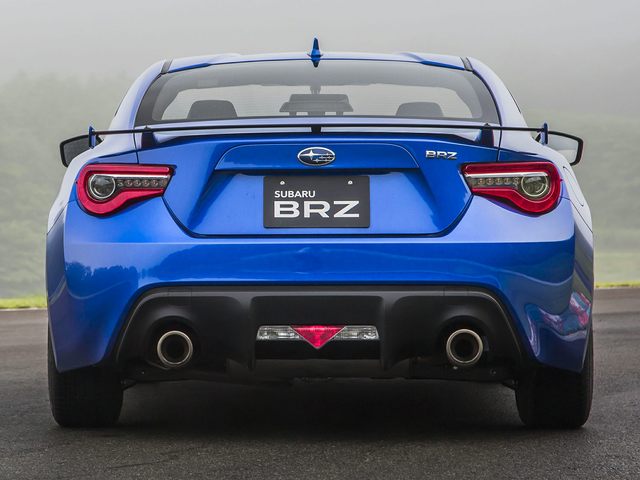 New Subaru BRZ Research Page
Anyone looking for an unrivaled driving experience from a sports car should consider the Subaru BRZ. The 2020 BRZ represents the culmination of years of Subaru engineering to produce a vehicle with an exceptionally low center of gravity and front/rear balance, delivering a car with effortless handling on the road.
In addition to performance, the BRZ is also designed for comfort, with a leather-wrapped steering wheel and sport seating to ensure a comfortable and intimate connection with the vehicle.
Capabilities
The BRZ comes with a 2.0 L DOHC engine capable of putting out 205 horsepower at 7,000 rpm and 156 foot-pounds of torque at 6,600 rpm, offering more than enough power to make the BRZ an explosive and dynamic vehicle.
With a sport-tuned 4-wheel independent suspension, traction control system, and an electric power-assisted quick-ratio steering system, the BRZ prizes responsiveness and smooth handling above all. The combination of power and responsiveness is at the heart of what distinguishes the BRZ from other vehicles on the road.
The BRZ offers the choice of a fully synchronized 6-speed manual transmission or a 6-speed automatic transmission.
Safety
Like all Subaru models, the BRZ is engineered with safety as a key factor. The BRZ offers a range of both active and passive safety features to ensure all occupants of the vehicle remain safe at all times.
With a vehicle stability control system, brake assist, 4-wheel anti-lock brakes, tire pressure monitoring and daytime running lights, the BRZ offers a suite of features designed to minimize the risk of accidents.
And with the Subaru advanced frontal airbag system (a system including frontal airbags, seat-mounted side pelvis and torso airbags and side curtain airbags) offering dual-stage airbag deployment, the BRZ protects its passenger in the event of a collision of any kind as you commute from Bedford to Spencer.
Trim Levels
The Subaru BRZ comes in two trim levels - The Limited and the tS
BRZ Limited
The BRZ Limited is the base trim level for the BRZ. It offers a handful of optional features not available in the higher performance tS trim level, including an automatic transmission. The Limited also offers superior fuel economy, coming in at 33 mpg highway and 24 mpg city compared with the tS' 27 mpg highway and 20 mpg city.
BRZ tS
The BRZ tS, which is short for 'Tuned by Subaru Tecnica International', takes the already-excellent handling of the BRZ to the next level. The tS features an enhanced sport suspension and a modified chassis, as well as a Brembo performance braking system and premium tires. All of this leads to a vehicle that responds to the driver's lightest touch and delivers superior performance.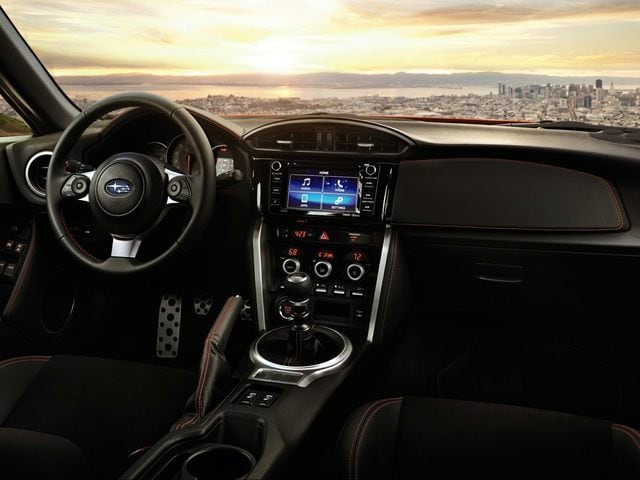 Technology
The 2020 BRZ offers a range of technological features to upgrade the driver's experience in multiple ways.
A console-mounted seven-inch STARLINK multimedia touchscreen allows you to access Apple CarPlay, Android Auto and all other major connectivity options. By linking your mobile device with the STARLINK system, you can access a full suite of voice-controlled apps and features to stay connected while on the go.
The BRZ also offers a voice-controlled navigation system through TomTom to assist you in navigating wherever you end up driving. And dual USB charging ports allow you to keep your digital devices fully charged while out and about.
The BRZ features heated side mirrors and a dual-zone climate control system to keep you comfortable and able to see the whole road in all manner of driving conditions.
Test Drive the New Subaru BRZ at Royal Subaru
If you're looking for a masterfully engineered sports car that can deliver an exceptional driving experience, the Subaru BRZ may be just what you're looking for. At Royal Subaru Bloomington, we're fully stocked and ready to provide you with information, a tour of the vehicles, a test drive, or anything else you might need. Whether you're in Bloomfield or Martinsville, IN, give us a call or stop in today.
---